Everyone is Always Lying and I Don't Know What to Do With Myself Anymore
after enough lies, no people are believed to exist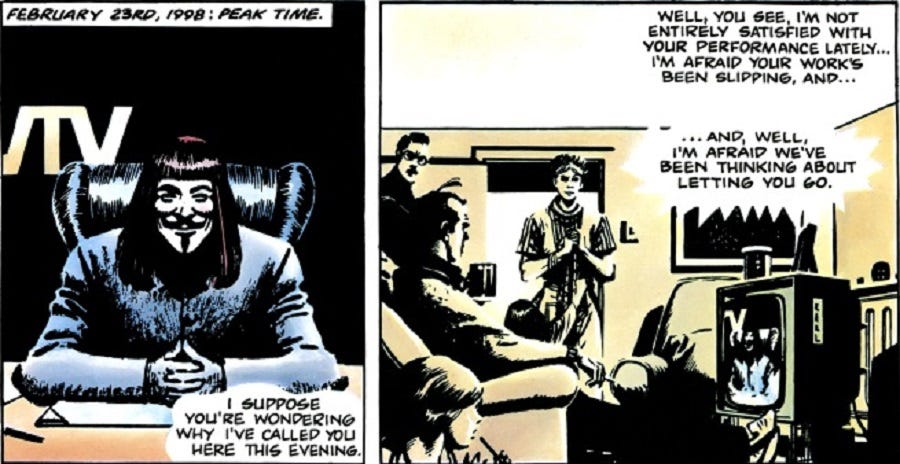 I'm not a liar by trade. Sure, I have told smalls lies in the past to protect or obfuscate, and I have kept silent when necessary—the old lie by omission. But I have never been the person who lies and knows it. I used to think the rest of the world was like this, committed to truth, but the longer I go on living, the more I have to confront that this is an issue more complex than I had previously thought.
People lie. These days, it seems almost a given. What do you do when you meet a liar? You tell the truth in hopes that it wins out in the free marketplace of ideas, as truth always prevails over falsehood in the social economy, right? A lie we are all told.
What do you do when you are faced with a liar whose utter disdain for veracity is impossible to prove? Even worse, what if you can't tell a person is lying to you?
If you've met a liar, you'll probably know how unnerving a statement like that sounds. 
Liars obfuscate. They sniff out situations where lies can go unchallenged, they seek power in new places when they've been unmasked. I don't know how to tell you this, but liars proliferate. And if you don't believe that, then someone is lying to you. And it seems like most people are in a consensus with me on that statement. 
It's easy to project one's own virtues onto all other people. We as humans like to believe in the possibility of an infinite good, of pure innocence in all matters. I myself sometimes succumb to this as an anarchist, wanting to believe the good faith of all people. After all, people tell the truth, most of the time, the old lie goes. But we all know that isn't the case.
Recently, a report came out claiming that almost half the accounts tweeting about current events were bots. Now, the claim has been walked back a bit, as this article details. Even still, imagine if 25% of accounts were bots. 10%. 5%—that would mean one in twenty people you argue with isn't real.
Data is not a monolith of truth. Commonly, data merely tells the truth and bias of the person behind the scenes, and a good manipulatrix can manipulate any set of data to their whims. Just search two opposing ideas on health and nutrition on google, with the words "scientific study" at the end. You'll find hundreds of articles vindicating either side.
If there can't be two truths at once, then who's telling the truth?
The radical black writer, Angela Y. Davis, argues in her essay "Rape, Racism, and the Myth of the Black Rapist," that white women have lied throughout history, a lot, usually to enact a specific kind of violence against black men; specifically, the racism of the carceral state through false rape accusations, all the way from colonial to antebellum to modern society. Some of these women even betrayed their own consensual lovers, a kind of contradictory harm to cover their own asses with self-hatred and shame. Jackie Wang, in her essay "Against Innocence," puts forth a similar idea, of our culture's fixation on terminally innocent people, on the perfect victim, on the perfect crime. In this way, a perceived authoritative truth becomes a lie of an ideology that obfuscates. 
Capitalism, white supremacy, patriarchy, these are all systems that reward lying— that is, if one knows how to rig the game. That, and they fundamentally don't care about the morality of doing so. 
The most prime example I can think of in recent memory was a non-scandal in the congressional race of challenger Alex Morse, a progressive mayor whose supposed crime was being gay and talking to people on dating apps. He faced incumbent Richard Neal.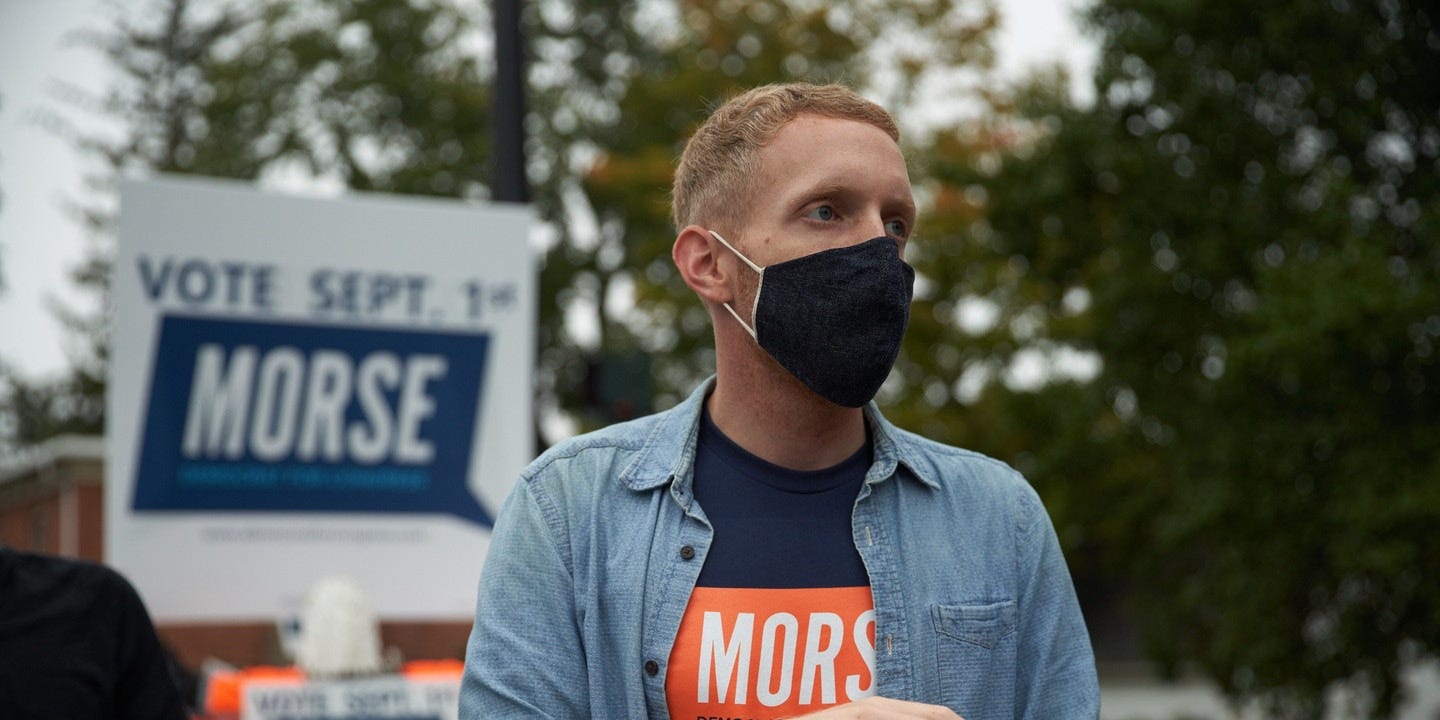 The dating app chat logs that were dug up are very wholesome, mostly questions like "how was your weekend?" and "what did you do today?" Not once did Morse use his power as mayor or teacher over anyone—he didn't even disclose that information, and he didn't talk to any of his students. There were no accusations of assault or misconduct. It was primarily a case of a single gay man searching for love like the rest of us. And the Democratic Party trotted it out as if it were a huge #MeToo scandal, the likes of Harvey Weinstein. People were immediately calling for him to drop out of the race.
The plot thickened significantly, when it came out that members of the College Democrats actually conspired to entrap Alex Morse by finding him on dating apps and using the controversy to sink his campaign. To quote The Intercept: "Leaders of the College Democrats group went beyond merely plans to leak. They also explicitly discussed how they could find Morse's dating profiles and then lead him into saying something incriminating that would then damage his campaign." What were they getting out of it? 
The chief strategist of the College Democrats at UMass, said openly in text messages that he was looking for an internship with Neal, who had been his professor. 
"Timothy Ennis, the chief strategist for the UMass Amherst College Democrats, admitted in the chats that he was a 'Neal Stan' and said he felt conflicted about involving the chapter of the College Democrats in a future attack on Morse. 'But I need a job,' concluded Ennis. 'Neal will give me an internship.'" All of this, mind you, while Joe Biden, the current democratic candidate for president, has been accused to multiple instances of both inappropriate touching in public, as well as sexual assault. We have a sexual assaulter as president, for chrissakes. The real instances of assault are veiled by rampant skepticism, the fake instances are leveraged for political gain and personal power. Timothy Ennis faced a situation where a falsehood was more convenient than the truth, and so he lied for direct personal gain. Morse lost his bid for the congressional seat, after the truth came out near the eleventh hour. This is a world where truth does not matter.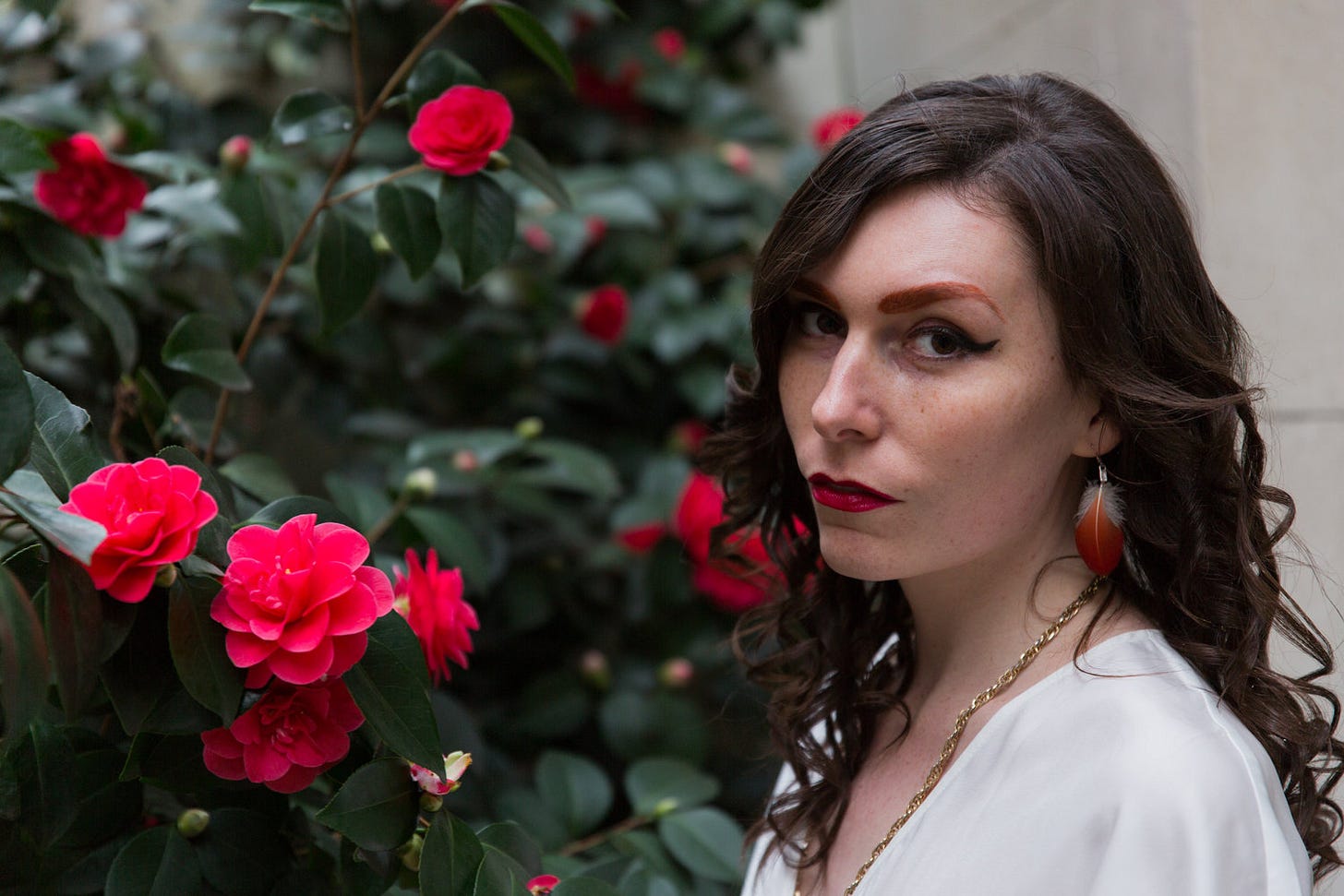 I think the trans person I owe the most to is Morgan M. Page. She always seems to have the right takes on standby for when situations like this happen, in addition to being an amazing trans historian with her podcast One From The Vaults. She is a kind of well-spring of good hot takes, femme sass, deep historical knowledge, and Sarah Schulman stannery (I won't be referencing Conflict Is Not Abuse here, but I must say, it is a foundational text for this kind of discussion, and you should drop everything and go read it).
In response to the Morse debacle, Morgan tweeted out an article "Four Ways to Escape A Sex Panic." If you have studied any trans, feminist, or sexual history, you'll know that the people propagating these sex panics are usually coated in sheep's clothing, a cultural dogwhistle that seems genuine at face value, but if you peel back the coat, you find an ulterior motive, an underlying agenda. Trans people were cast as predatory perverts to keep them out of feminist spaces. S&M dykes were treated as predatory perverts to keep them out of feminist spaces. Alex Morse was cast as a predatory pervert to keep a progressive out of corporate Democrat politics, with a dash of something personal to gain for the College Democrats—jobs. 
This harkens back to the smears against the Bernie Sanders campaign, of Bernie Bros, of Sanders somehow being a secret rampant sexist. Lies sowed to accumulate and consolidate power. 
And people still wonder why I don't find much value in validating this system by voting.
The nature of existing on social media is a very precarious one. Many documentaries and studies exist that focus on the basis of people who pathologically lie online, and how habitual and widespread it can be. The existence of the show Catfish, though sensationalized, is all the proof one needs. Sex worker friends of mine constantly have their pictures stolen and used on new twitter accounts or dating profiles. Hell, you and your friends have probabably swapped tinder catfish stories at some point. If you have, you'll know that the person you are talking to online may not who they say they are, and there are few ways to prove it beyond an in-person meeting.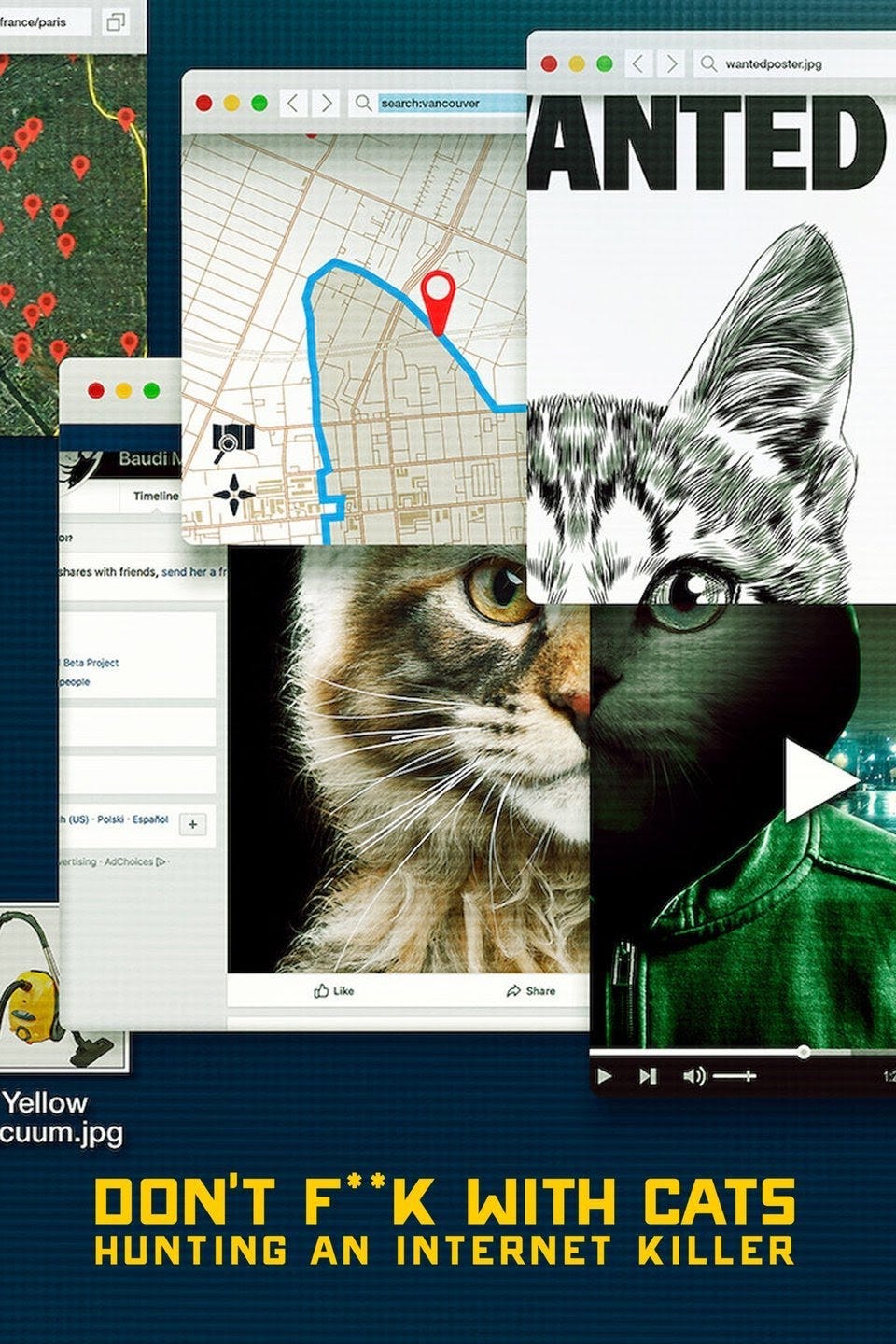 A few weeks ago, I watched the Netflix crime documentary Don't Fuck With Cats, about a cat killer online who films the killings for attention, then graduates to homicide. I am notoriously hard to scare, having grown up in a household where Law and Order: SVU and true crime was on the TV constantly, but something about this documentary really fucked with me. It got to the point where I couldn't get to sleep and was envisioning the killer in my apartment, waiting for me. I haven't had a feeling like that since the horror-film obsessed edgelord gorefest years of my youth.
I think what was so terrifying about the documentary was his flagrant lying, his narcissism, his need for attention, and the way it distorted the realities of those around him. His mother still thinks there is a phantom second killer mastermind out there who forced her son to do the murders, named after a character from Basic Instinct. 
To further make you feel like you are going insane, a twitter thread went viral a month or two ago that was quite obviously a completely fake story for clicks. The gist of the thread was a woman was relaying a story her "girlfriend" had told her (no qualifier on if this was a girlfriend she had a sexual relationship with, or a platonic friend. Straight women are so exhausting. I'm guessing it was the latter. No truth to be had, as always). Apparently this girlfriend was cleaning her son's room as he was home for college (btw, If your son is in college and you're cleaning for him, you have issues). Under the bed, she found a box filled with $100,000 in cash. Upon interrogating the son, the girlfriend found out he was temporarily and newly doing sex work during a pandemic, making big money with middle-aged women clients in the hamptons on his first try in the industry. The OP then claims the girlfriend made him GIVE ALL THE MONEY BACK TO THE WOMEN. Then the girlfriend says to OP "please don't tweet about this," and then OP tweeted about it (which, by the way, if someone says "don't do this" and then you do it, that can definitely be harm, and in certain contexts, can be abusive).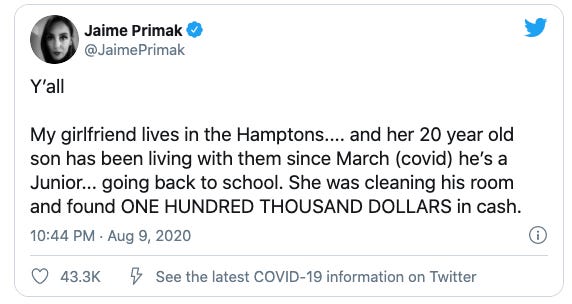 Now, other than this being a story by a despicable person about a despicable mother, the story is obviously fake. Anyone with a brain could tell from the first tweet, as it begs the question: why the hell are you tweeting out this private story on a blue checkmark account if it's supposed to be such a secret? 
Truth, it seems, is an inconvenient for clicks.
There are currently tons of anonymous google docs that compile lists of people and accounts that are guilty of some sort of leftist cultural transgression, whether that be racism, transphobia, biphobia, classism, or something else. I'm pretty sure I'm on at least a few transphobia blocklists (a claim so ridiculous I refuse to dignify it with a conversation), and I was once labeled publicly as a "biphobe" for a viral tweet criticizing straight women (if I talk about straight women and you consider yourself in the crosshairs, maybe reevaluate your relation to the queer community? Just a thought).
We treat the online sphere as if all people are telling the truth, coming to the marketplace of ideas in good faith. Most people can be won over with the "facts" by being shown the "truth" through discourse. Why do we continue to think this is the case, when we know for a fact that it is not the case? When we know that these sock puppet accounts are easier and easier to set up, that bots are rampant online? What is our impulse to believe based on?
Why do people lie? What is to "gain" from doing something like this?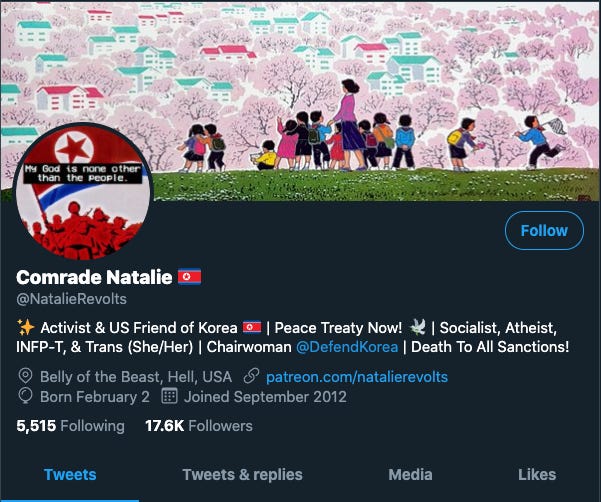 Legions of communist anime avatars on twitter obsessed with girlcum tweet out propaganda for imperialist state communist regims. While it's possible these accounts are LARPing tankies who just found out about communism a year ago, as William Gillis outlines in this magnificent tweet thread about the growth of tankies, I'm sure some are bots. After all, bots are some of the easiest things to set up. My friend McKenzie Wark has a simple one. The screenshot I posted above has a Patreon connected. All its posts are face value spewings of propagandist of the DPRK government, with little commentary. The well known Cambridge Analytica scandal was a clear case of harvesting data through deceptive manipulation, then using it to sway public opinion and create a certain narrative.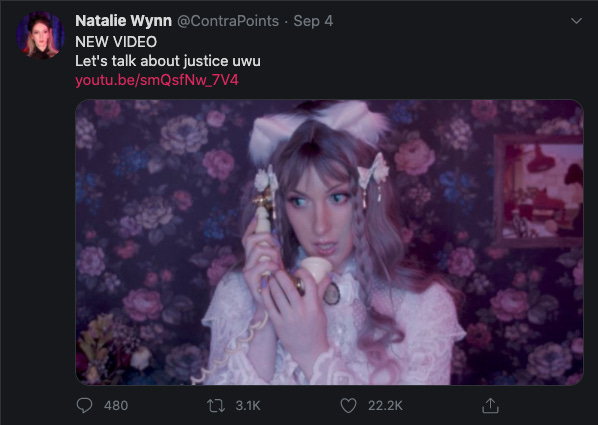 People make shit up online all the time. There is an overwhelming sense of hatred on social media, people who spend hours a day searching for argument after argument, obsessively. Youtuber Contrapoints, in her colossal video essay "Cringe," popularized the concept of a "morbid cringe obsession," a kind of narcissistic self-harm obsession of seeking out things you hate to cringe at, in perpetuity. It's an expose that shows just how far obsessive internet compulsions consisting of negativity can be.
My friend Annie just the other day showed me an anonymous account where a cartoon avi was obviously a TERF posing as a trans woman to further spread transphobic beliefs. There's no accountability, no truth in such a system. It's people who orgasm to the thought of lying, and really, what could be more terrifying than that?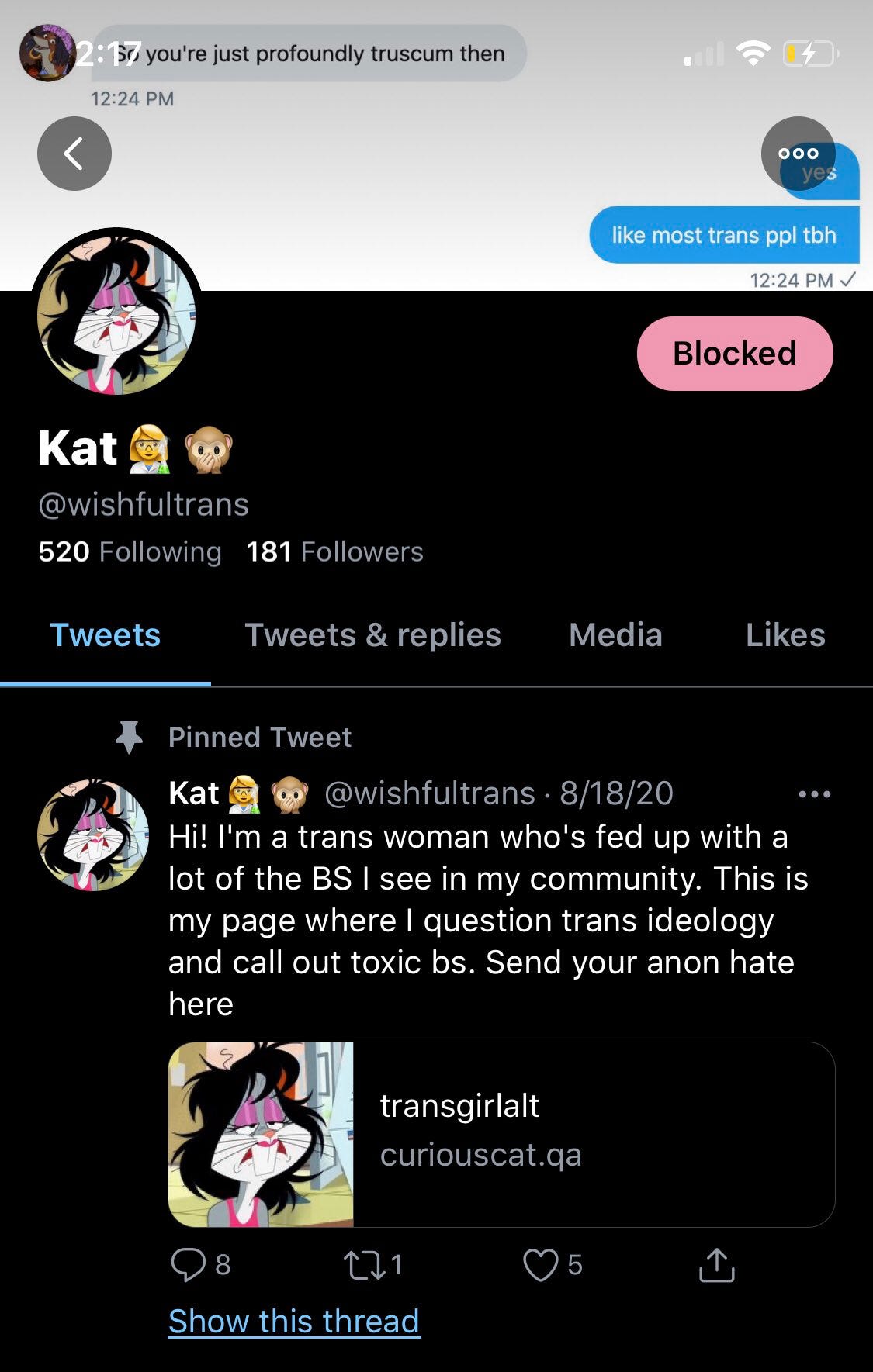 So many accounts on twitter are just bots or sock puppet accounts that are literal psyops built by the alt-right to destabilize leftist movements and sow dissent. It's COINTELPRO on a smaller, edgelord scale. Many times, these accounts, which are fake, and sometimes not even operated by human hands, come to stir up huge controversies all their own as OPs threaten and fight with people who don't exist. Then everyone who doesn't like each other accuses the other of being a psyop. Suddenly, after enough lies, no people are believed to exist. Do you see what I'm getting at? 
I think I have a different view on this than most people, as I was an early user of 4chan, back before it went white supremacist. I mostly frequented the anime boards and /d/ - the kinky alternative hentai board. Ironically, it's one of the places that taught me about trans stuff (420chan /cd/ board, I miss your glory days). Even still, I haven't been a user on there in well over a decade.
The unique thing about 4chan is that it's a board where most users default to posting anonymous, even when somewhat identifying themselves (hence the perception of "Anonymous" as some kind of organized collective). But the truth is, the person on the other side of the screen could be fucking with you, a boy masquerading as a girl, a troll just wanting to sow discord, your neighbor, someone from another country, or your girlfriend. You could be accidentally roleplaying sex with your cousin. You had no way to know for sure, and so all posts were taken with a grain of salt, even the very serious (and even deadly) ones. 
So what's a girl to do with all this info? What's the takeaway, the conclusion?
I am not sure how to spot a liar, any more than you do. People lie, and they will do it through a smiling face. I try to read between the lines to see what accounts are full of themselves, bots, are too perforative—but it just makes me feel like shit. It feels like being a cop. The things I can tell you to look for are accounts that exclusively use incredibly inflammatory language and hyperbole, accounts that were created very recently, have a long chain of numbers at the end of their @, or only retweet and quote tweet things, but never tweet original tweets themselves. This article goes more in depth.
It's a hard thing, to doubt the entire veracity of the world. It can make you want to crawl in a hole and give up. I may have dated a liar, but I learned a lot from that relationship. The importance of meditation, the joy of passion—sometimes liars can teach us a few truths, even if they didn't intend to do so. 
I am sure people will read this essay and take the exact opposite conclusion from it, that false accounts of sexual assault or abuse are rampant. We currently have two known sexual assaulters facing off for the presidency. The liars run free and rule over us, while the rest of us suffer. If our current formations of guilt, innocence, harm, and truth were adequate, surely this wouldn't be the case. Surely Alex Morse's run for congress would not have succumbed to a blatantly homophobic sex panic smear campaign. Surely online liars would not be so prolific. Surely opportunistic grifters and manipulative abusers would not be able to navigate so easily, if the truth prevailed. Surely all the rapists would be in jail, if the carceral state aimed true. Surely #JusticeServed would be the status quo. 
I wonder sometimes if perhaps this was the plan all along; a right-wing plot to destroy truth to the point where no story can ever be believed. It sounds like a conspiracy theory, but if you've spent time on 4chan like I have, where "Trolling Operations" were very much real, you'd think twice about spiriting away such an idea. In the early part of the 12 years I've had twitter, I never used to question if the people I spoke to on the app were real or not. Maybe that skepticism has come with an increase in followers, or maybe it's a result of the exponential popularity of the internet.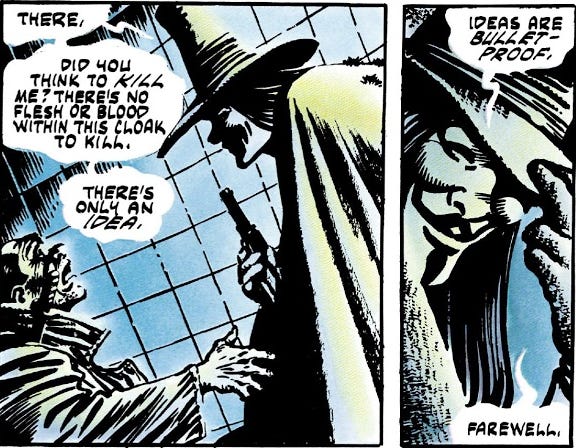 I have no solution to this problem. I had to write this essay because it's a cynical thing that's been bothering me lately, a problem I haven't been able to solve in my mind. How do you believe everyone, when you know it might be in your statistical best interest to doubt everyone? The goal of the troll campaign, to destroy truth. In such a scenario, UnTruth can take power, and alternative-facts will reign supreme. Despite my cynicism, I never want to show them that they've succeeded. I do not want to concede to the defeat of truth.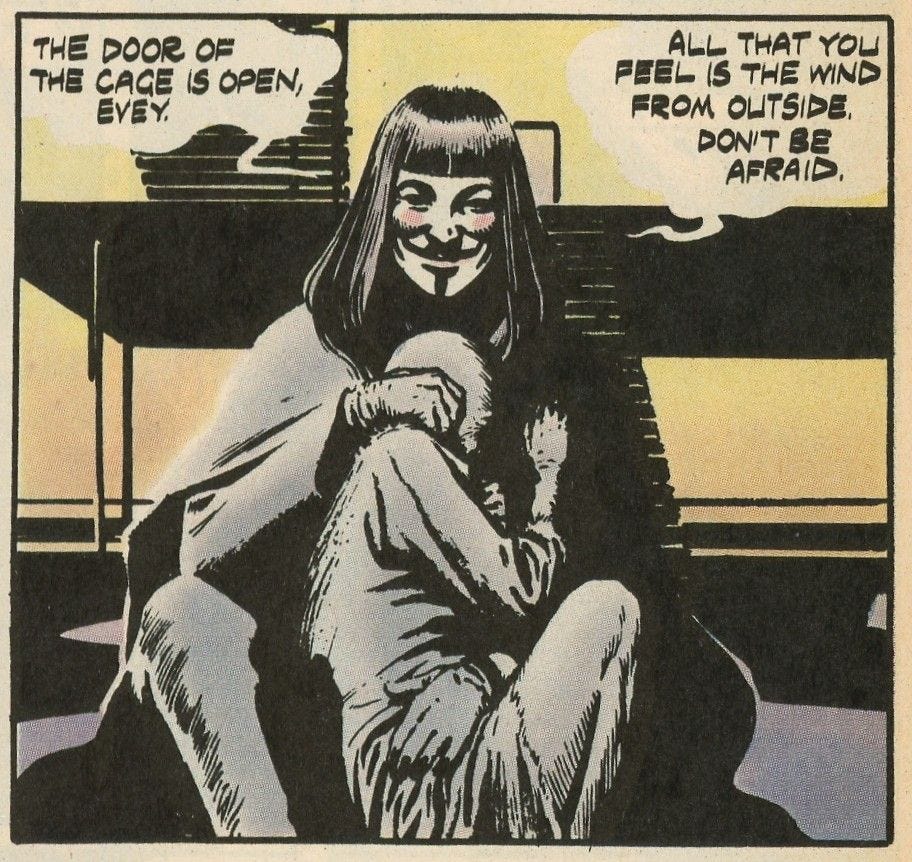 ***Thank you all for reading, and thank you for always supporting me. I've been focusing on my fiction lately, so nonfic for fun has taken a bit of a backseat. I almost finished an entire novel during this pandemic, and I am nearing completion on a novella that I am having illustrated by a wonderful artist. On top of that, I have dozens of stories to share soon. Lots of good things to announce on the horizon. Most I can't talk about publicly yet. Sorry, that's just the nature of the biz. Hopefully you'll hear about it soon. xoxo June Amelia