ONE MORE FINAL: I NEED YOU. Welcome to the Apocalypse
the fate of destruction is also the joy of rebirth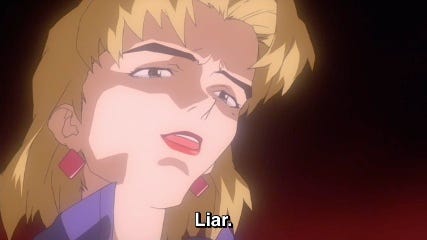 *spoilers for Evangelion and Berserk*
This is not the next essay I thought I would be writing you. In fact, I never could've guessed I'd be writing something like this at all. I'd had my writing schedule pretty booked up, all set in stone for the next few months. As someone in mental health recovery ("bipolar remission", my hospital discharge papers say), routine and concrete plans are what ground me in wellness. My big novel is in some intense drafting stages. I have several zines, set in a cycle, in various stages of completion (I am a "fill in as you go" type of writer). I have essays about mental illness and kink all queued up for this blog. I had enough ideas and projects to get me through until at least the mid summer. A lot had happened, and it all seemed so important—I needed to make art about all of it. In my pitifully ego-driven mind, nothing else could take precedence. Then, the apocalypse happened, and it all seemed so dishearteningly pointless. 
Some might take issue with my labeling of the current global crisis as an "apocalypse." The other day I saw a tweet saying the word could be triggering for some people. Oxford defines apocalypse as "an event involving destruction or damage on an awesome or catastrophic scale." Merriam Webster calls it "a great disaster." So, as a bipolar person in a triggered state of distraught crisis based on the current state of the world, I will say that yes, we are currently experiencing an apocalypse, and no, now is not the time to sugarcoat the diagnosis for the tenderqueers in the back. 
---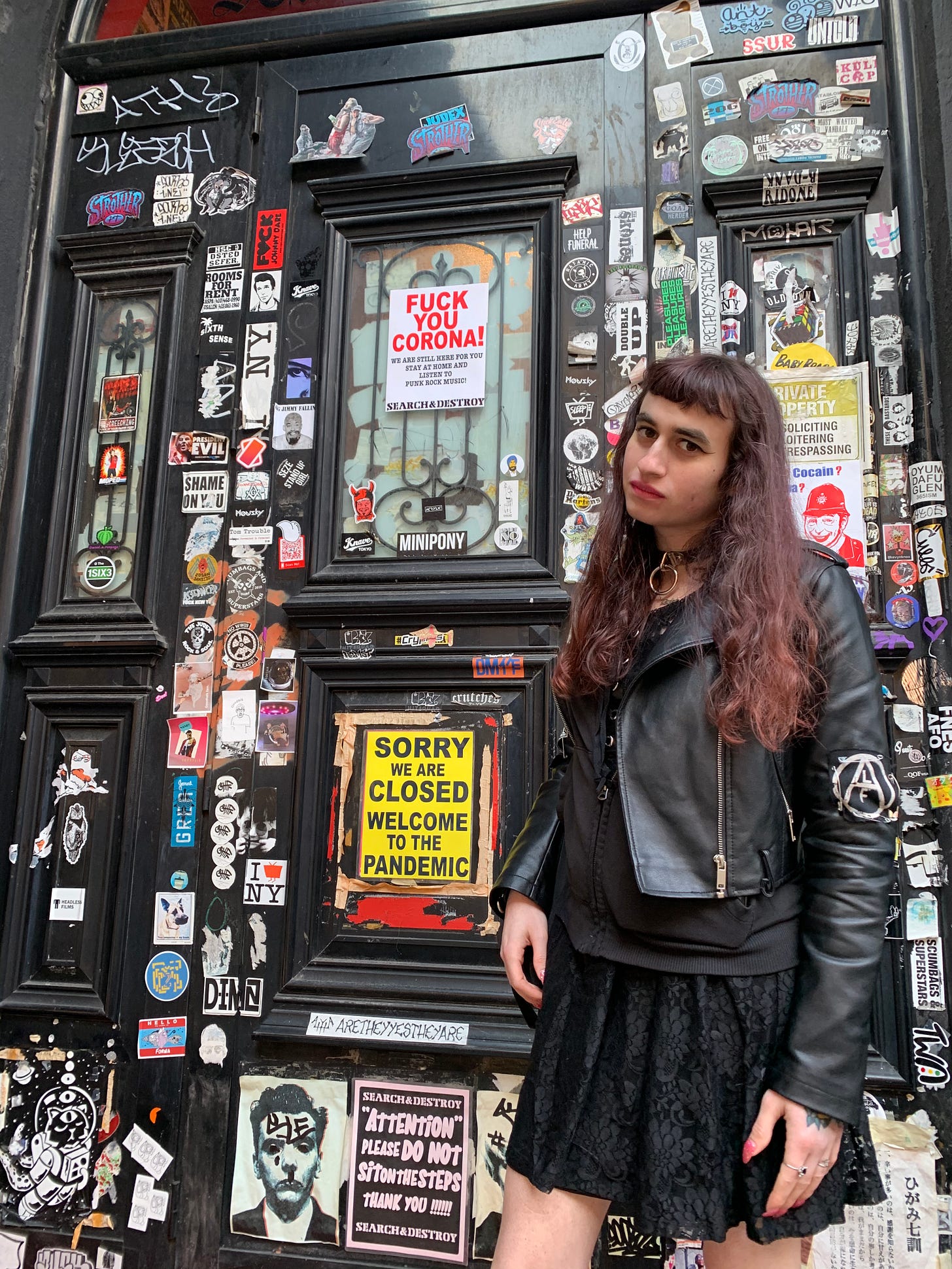 While I had been following the news from Wuhan since January (I get all my news from far-left YouTube and Twitter, many of them way quicker on the uptake the mainstream sources), I, like many others, did not take it totally seriously. That is why, in early March, I found myself still going into work like normal, still going on dates in very crowded public spaces with the girl I'd just started seeing, still buying concert tickets and counting on what seemed like locked-in freelance income in the near-future. It was only a month ago, but life felt so different. Sometimes, it feels like the apocalypse has already happened, and we are just waiting for the second one. A popular meme going around jokes, "Who remembers 'Places'?"
Slowly, people disappeared from the streets, and then the businesses closed, one by one, and then one day I got the text from a candlelit bathtub that I didn't have a job anymore, and that we're really, truly, really truly sorry, it's such a shame. We promise we'll rehire you when we reopen. We promise. You have our word.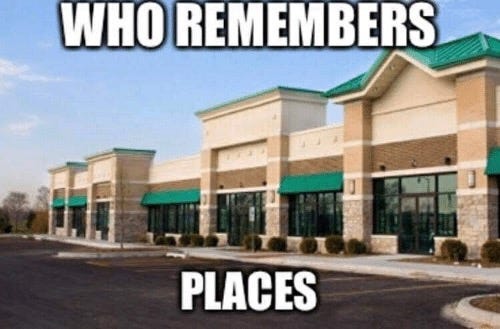 Life comes at you fast. Now, I can't even go do my laundry down the street, go to a badly needed dentist appointment, or do anything social in person. I had a artsy photoshoot planned. I miss my friends so badly. I had a fucking femme dyke orgy canceled. I missed my best friend's birthday. I'm dating someone new and want to go explore so many places and experience so many things. The publishing industry is in even more turmoil than before from a lack of events to promote books. Politicians are going on TV to condemn people to die for the sake of the economy. My entire city is on pause. Everywhere I go, death becomes us.
A. and I have been joking about all the people texting their exes, how crisis makes people horny and needy. Their minds turn to mush, grow sentimental, think it's appropriate. Crisis even got me to think for a second about maybe messaging my family, becoming that same insufferable ex who texts, "Hey, I know we haven't talked in a while, but I just want to make sure you're being safe and check in on you." Once again, life, fast. 
The most embarrassing thing to come out of this for me is that, since my job shuttered, I haven't been able to write a single fucking thing. It's shameful, to have been out of work for almost two weeks and to have no writing to show for it. I've been trying, but I can't concentrate. I feel like I've just been laying there, wasting away, unable to pinpoint my place in the world once more. Even simple chores and household projects, they've all fallen by the wayside as I struggle to construct anything mildly resembling normalcy. I have all the time in the world, but I don't want it. Nothing can get me to turn my mind off, nothing can pry me from my phone's endless news cycle of death and destruction.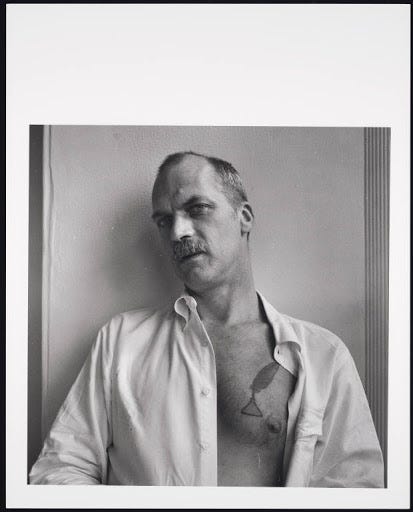 My mind turns to the late great erotic writer John Preston, a gay leatherman who influenced an entire generation with his S&M classic Mr. Benson and the ensuing "Master" novels. Preston, during the AIDS crisis, became demoralized by the erotic state of the world, the way the condition fed on the gay community's revolutionary sexuality. As he himself became HIV positive, he lost even more of his drive to fuck and create. He blamed himself, thinking his bareback sex writing may have exacerbated the spread of the virus. After this dark night of the soul, he went on to become one of the champions of HIV prevention and safe sex in the gay and leather communities, all up until he died of AIDS complications himself.
It's just been so hard for me to feel like all my writing about kink and sex and punks having dyke drama is trite now, a useless distraction in the face of a global pandemic. It doesn't help that many media outlets are rejecting or killing freelance pitches that don't directly deal with the crisis. It seems like the only stories anyone wants to consume right now are narratives of never-ending fear for profit. 
It's kind of morbidly hilarious, the sort of humor right up my alley; I have all the free time I have ever wanted, but I can't concentrate creatively to utilize any of it. In all of this, I am still trying to find my rebirth. 
---
The 1995 anime series Neon Genesis Evangelion starts off as a lighthearted giant robot show and ends with the end of the world. As the story closes, two characters re-emerge from the homogenized gloop humanity has congealed into. The final image is of a young boy choking out the traumatized girl he loves and lusts for. It's a terrifying conclusion to one of the most influential anime in history, an ending that completely defies expectations, an ending so infamous it pissed off fans for decades. It became daily fodder on nerdy message boards, its own apocalypse transmuting into a meme.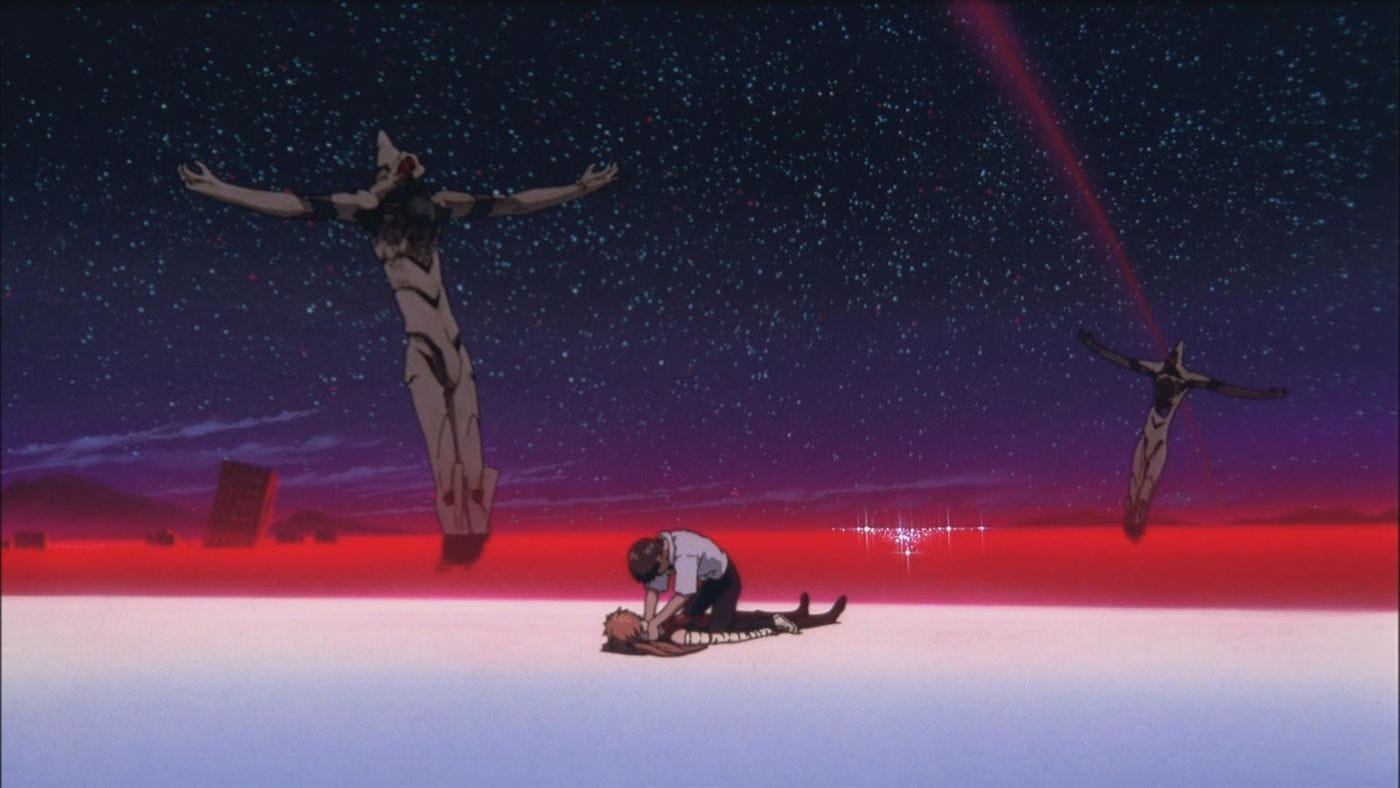 The apocalypse is kind of a running story trope in anime, being largely a response to the effects of the atomic bomb and the resulting fallout on Japanese society. There's Akira, Devilman, Evangelion, Barefoot Gen, Fist of the North Star, Grave of the Fireflies, and I can go on. Culturally, the bomb was the nexus of most post-war art in Japan (think the popular metaphor of Godzilla embodying nuclear destruction), so much so that they named an entire literary genre after it: genbaku bungaku, or, atomic bomb literature. From there, anime followed suit to be yet another vehicle for the nation's pain and nihilistic identity. 
From things like Ghost in the Shell's post-humanism to Akira's tale of political corruption, experiments, and urban decay—tragedy shaped a people. Much like how patriotic art was pushed following 9/11, I wonder what art will come about from the current crisis, how much destruction and loss and grief will demand to be told, and who will even survive to tell those tales. Who will speak the stories of the dead?
Shinji Ikari, the protagonist of Evangelion, is a teenage boy who shoulders the burden of a world on the brink of collapse. His ability to fight in the titular Eva means he must fulfill an obligation to a humanity he is too depressed and disillusioned with to know how to love, let alone save. The latter half of the series, famously esoteric due to budget and production constraints, breaks down into a psychological dive into a person's soul: who will you be at the world's end? 
Evangelion is a bleak story, full of heartbreak and grief and loss. I mean, the world fucking ends. Eva is a hard watch. Visually, from an editing standpoint, it's draining to sit through. There's static stills with little to no movement, there's abstract disturbing imagery, there's a conclusion many would say answers nothing and is unsatisfying. But in the ashes of all that torture, there's hope. A boy and girl arise from a red dead sea. They may resent each other, but they're not dead yet. What does it mean? You tell me. 
---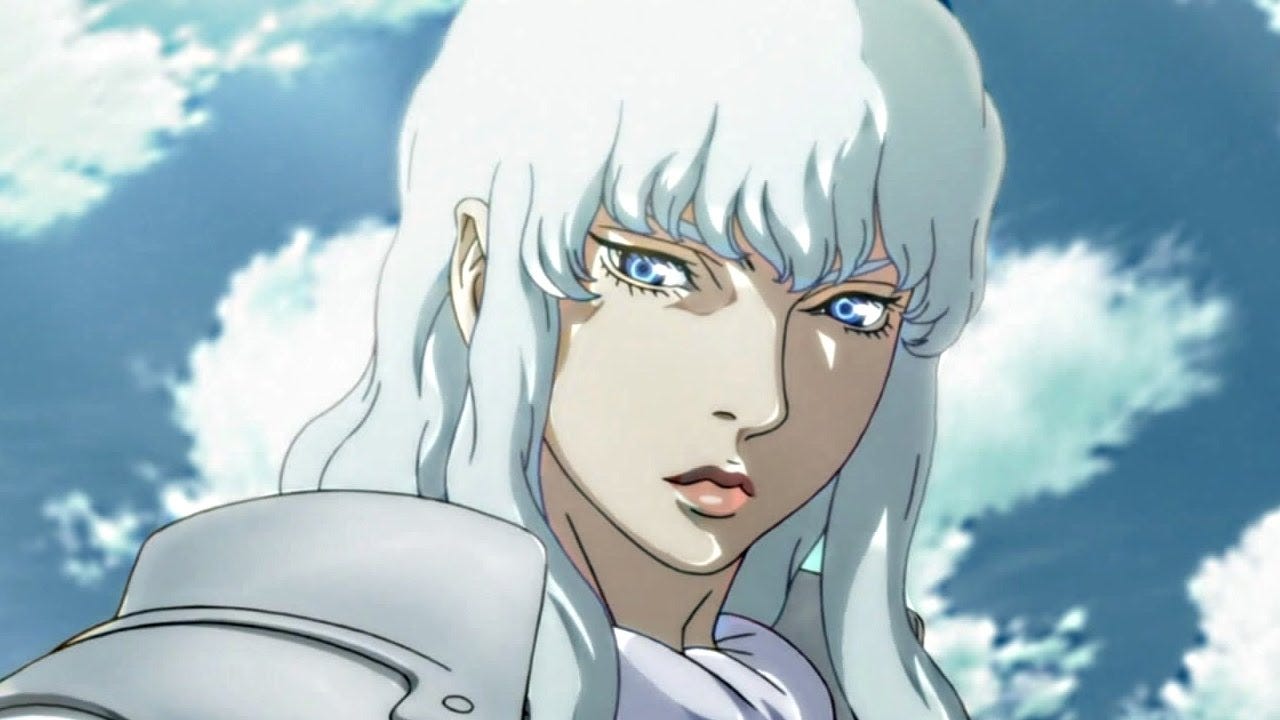 My favorite apocalypse story is one that isn't finished yet, and very well might never be. Kentaro Miura's Berserk manga, a project frequently on hiatus, is a high-fantasy based horror story dealing with apocalyptic religious themes of the contradictions and complexities of good and evil. At the end of the first arc, essentially the series' extended prologue, the protagonist, named Guts, rescues the leader of his army, the white hawk Griffith. A silver-haired femboy villain-to-be, he stole my heart the instant he first appeared.
At that point in the story, Griffith has been destroyed beyond recognition. He has been tortured, maimed, and violated by the King. His tongue is cut out, his ligaments have been sliced, his skin has been flayed off. His face is so bad, we as an audience never see the damage—his hawk-shaped helmet is kept on at all times. Only visible are his agonized eyes, lifeless with terror, poking through the cold metal.
During the escape, Griffith's willpower and blood mix with an ancient necklace given to him by a witch, and the gates of hell open up. His entire army is transported to a closed dimension where demons await, surrounding them. A group of demon-gods appear and explain to Griffith: all he has to do is say he is willing to sacrifice his friends, and he will turn into a demon-god too, transcending his human form.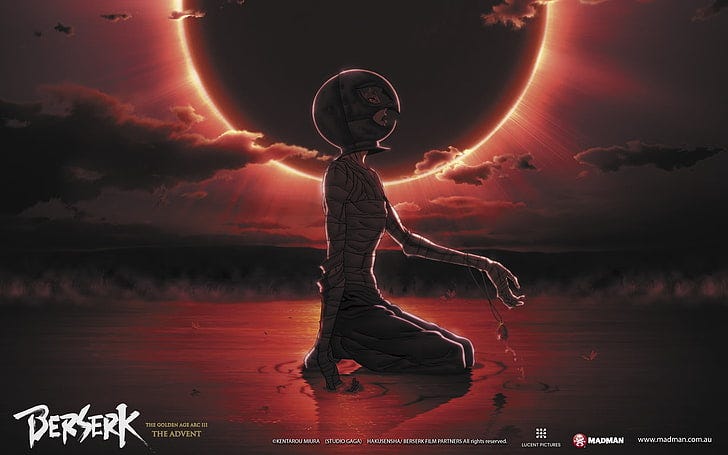 In one silent instant, Griffith breathes out two barely audible words from his tongueless mouth: I sacrifice. And in that moment, I fell in love with him. His commitment to corruption was sexy in a horrific way. I have always had a huge corruption fetish, a hotness for demonic evil. Succubi, possessed Satanic souls, and demon perverts doing the bidding of the Dark Empress. Griffith brought my fetish to the forefront. His willingness to burn everything down, to condemn everyone he loves to bloodshed in order to regain his body and complete his dream of having a kingdom of his own one day, to accept that there was nowhere else left to go, no future left to live, and be reborn. It's not that I agree with Griffith, in fact, I kind of am in awe at how much I hate him (he is one of the most despised characters in anime history), but I felt for his pain and the choices he made. It's a sublime scene that I can't really accurately depict; you just need to read the manga or watch the anime to feel the emotional weight of the Eclipse. 
The demons descend, killing almost everyone. Griffith is reborn in the sacrifice of their blood as a black winged demon-god. Guts and Casca (the only woman in the Band of the Hawk) escape the tortured dimension, though not without scars both physical and mental. The rest of the manga's story is Guts' quest to gain revenge on the demon-god who betrayed him and killed his friends.
The thing about Berserk is that Guts' apocalypse is a personal one. Everyone else who witnessed the ritual sacrifice, besides Casca (whose mind is wiped), had been killed. Guts, after years of close friendships, is alone in the world. When he escapes, he knows that no one will believe him. He witnessed things no one else has. His grudge must go untold. Even then, demons chase him through the night as people attack him based on fearful stories circulated about him. Guts is the strongest swordsman alive, but the trauma of his own apocalypse rules over his destiny. 
What further complicates the story is that Griffith goes on to become a messianic figure, and even to become King of a long lost city of salvation. Griffith's dark quality as a savior, as a beacon of light, complicates the narrative: are good and evil one in the same? Was Griffith's act of blood sacrifice a good one, a necessary payment in order to become the messiah?
There are other apocalypses throughout Berserk—the world literally goes through three different ages. The world keeps ending, and Guts is there to save it, though Griffith becomes the savior time and time again, always an apocalyptic hawk of an eclipse over Guts' success.
---
An apocalypse is a transformative event in which a surface, a society, is fundamentally changed. At the end of this crisis, life will not be the same. Crowds will be seen as suspect. Sanitizer will be everywhere. Enclosed spaces will be viewed as unsanitary. Shaking hands and hugs will no longer be a thing. You might have to disinfect before you go on a plane. People will avoid the subways even more than they already do. 
I am thinking of everyone getting rich off this—the tech companies, the big box stores, the grocery stores, the cleaning supply companies, the news, home media, video streaming services. They probably never want this ailment to end—it's a spike in profits for them. What will they do with that money? Feed it to CEOs and shareholders. The workers must either starve or revolt, but that's another essay entirely. If they do not give you bread, steal it. 
---
I had been doing really well mental-health wise. I hadn't cut myself in over a month, I was sleeping and taking care of myself, I was saving money again. But the thing about tragedy is that we don't get to control where and when it strikes. Our trauma doesn't buy us into control.
A week ago, I took the opportunity to walk the Williamsburg Bridge for the first time in my life. Since the girl I'm dating lives in Manhattan, we have taken to meeting halfway on the bridge so we can avoid the subway. We walked with A. holding me tightly close to her, like a child being reprimanded (she is a Domme, after all—we joke she's the principal and I'm the delinquent schoolgirl). As we headed towards Tompkins Square Park, she said something that's been helping me, a fiction writer struggling to finish content, to push forward. 
"If you're gonna tell yourself a story, why not make it a good one?"
I have told myself many false narratives over the years. I've made fictional tragedy into reality, I've let loss decide my orbit, I've wrote stories in blood on my wrists. I was falling into an apocalypse narrative once again, this time on a grander scale. I was writing the tragic story before it had even gotten past its prologue. My trauma instinct is to turn this global apocalypse into another character flaw on my part, some retribution or punishment I've brought on myself. A failing. But we all know that isn't true, and so I need to stop being a selfish little bitch by telling myself that it is. I need to show up for the world, the way the world needs to show up for me. An old song I used to love went, "all punks got is each other."
I'm ready to clash away at my keyboard like my life depends on it, because in many ways, it does. It's the best way I know how to cope and process my grief right now (besides dyeing my hair). 
Honestly, since this started, I've been talking to my friends more than ever before. I FaceTime a bunch of people, call, text, all because we need to connect with each other in these end times. While on a daily walk, talking on the phone with my bestie Cayetana the other day, she told me that I need to remind myself that everyone is going through this right now too, that it's not just my problem. That the only way we'll get through it is together.
If it wasn't clear enough, the truth is, I need you. I need you all.